CSO card withdrawal
The green Construction Site Operative (CSO) card was withdrawn on 1st July 2014.  There is a new Green Labourer card for people working in labouring occupations.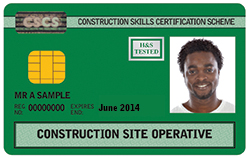 All CSO cards remain valid until the expiry date printed on the card. Once they expire, they cannot be renewed.
If your CSO card has expired, then you should:
CSO card holders who do not take the necessary steps to replace their card will find they will be unable to obtain another CSCS card. This could prevent you from working as the majority of employers require a valid CSCS card to get on site.