CSO card withdrawal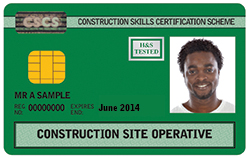 The green Construction Site Operative (CSO) card was withdrawn on 1st July 2014.  There is a new Green Labourer card for people working in labouring occupations.
CSCS is urging card holders (and their employers) to make the necessary arrangements to replace the CSO card before they expire.
All CSO cards will remain valid until their expiry date. Before the card expires, CSO cardholders (or their employers) should:
Apply for the Green Labourer card if the cardholder works as a labourer
Use the CSCS cardfinder to find out which card they should apply for if the cardholder does not work as a labourer
CSO card holders who do not take the necessary steps to replace their card will find they will be unable to obtain another CSCS card. This could prevent you from working as the majority of employers require a valid CSCS card to get on site.
The withdrawal of the CSO marks a major step towards achieving a fully trained and qualified workforce.
Get answers to the most frequently asked questions here
Health and Safety in a Construction Environment Award
This RQF level 1 award was developed for Labourers needing to obtain a CSCS card. If you are a training provider interested in offering the new Level 1 Award Health & Safety in a Construction Environment, or an Employer looking to have your training courses recognised as an equivalent to the award, click here