Gold Skilled Worker
Go to the full Card Types list
All Industry Accreditation (IA) cards issued from 1st Jan 2020 will expire on 31st Dec 2024 and cannot be renewed using IA. For further information and details on the support available to IA cardholders, visit CSCS.uk.com/IA.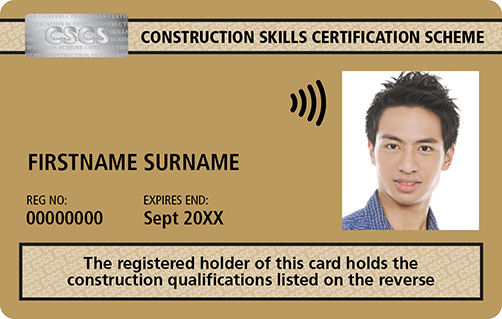 This card is available if you have either:
Achieved a Construction Related NVQ/SVQ level 3 or SVQ at SCQF level 6.
Completed an approved apprenticeship (e.g.with NJCBI, BATJIC, Institute of Apprenticeships etc.)
Completed an employer sponsored apprenticeship that included the achievement of a City and Guilds of London Institute Advanced Craft Certificate.
This card is valid for five years.
All applicants must have passed the CITB Health, Safety & Environment Test within the last 2 years, at the relevant level for the occupation being applied for. To find out which level of test is required please use our Card Finder
The quickest and most convenient way to apply for a CSCS card is via our online application service.
If you already have an account, please login and start your application today.
If you have not already done so, we recommend that you create an account by visiting Applying for cards and follow the steps on the screen.
Further information