Industry Placement Card
Go to the full Card Types list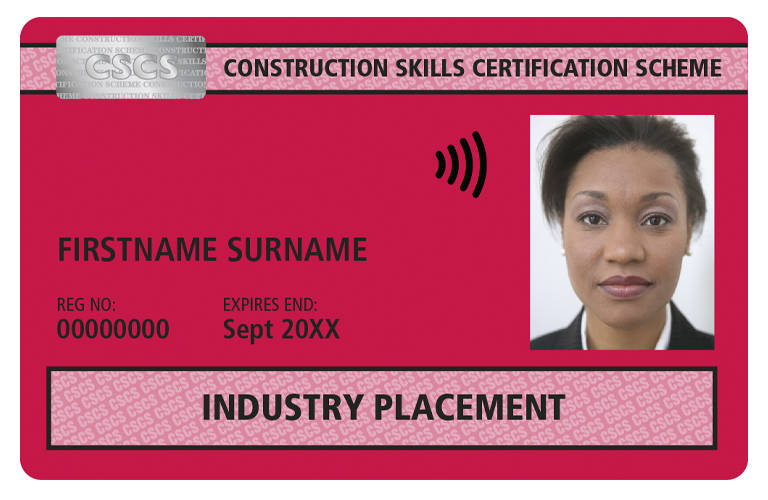 The Industry Placement card is valid for three years and cannot be renewed.
This temporary card is only applicable to those undergoing a construction-related qualification or training programme which requires the completion of a minimum 30 day work placement, such as T-Levels or Trainee Skills Development Programmes.
To be eligible for this card, applicants must:
Important note: The following card schemes offer the Industry Placement card.
Construction Skills Certification Scheme (CSCS)
Electrotechnical Certification Scheme (ECS)
Engineering Services SKILLcard
JIB Plumbing Mechanical Engineering Services (JIB PMES)
Visit the CSCS Industry Placement card support page for further information on identifying the correct T Level, Traineeship or other programme pathway and which card scheme to contact when applying for a card.
If you are a trainee registered to complete a construction-related vocational or academic qualification* which is acceptable for a skilled CSCS card upon completion, you should apply for the Trainee card instead.
*(or hold professional membership with a CSCS recognised Professional Body at an accepted level, please visit the Card Finder to view accepted levels/bodies)
How to Apply
Applicants must provide proof of registration onto their T Level, Traineeship, or other programme.
Applicants must complete the Enrolment Evidence Form and upload it during the application process.
Applications must be made via the online application service. If you already have an account, please login and start your application today.
If you have not already done so, please create an account by visiting Applying for cards and follow the steps on the screen.
For more information about the Industry Placement card visit its Support Page.
Further information