Labourer
Go to the full Card Types list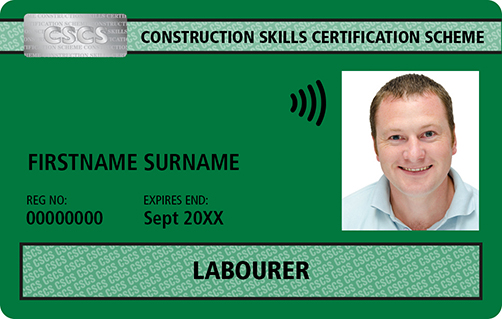 Card Requirements
All applicants must pass the CITB Health, Safety and Environment test for operatives and hold one of the following:
An RQF Level 1/SCQF Level 4 Award in Health and Safety in a Construction Environment. Click here for a full list of awarding bodies offering this qualification.
An SCQF Level 5 REHIS Elementary Health and Safety Certificate.
The NOCN/CSkills Awards Construction Health and Safety (F/618/0738) unit
A CSCS approved alternative qualification. Alternative qualifications with an expiry date can only be used once, so you will need to retake these qualifications in the future when you renew your Labourer card.
To take one of the above qualifications, contact your local college of further education, training centre or Jobcentre Plus. These organisations can advise you about training and assessment availability, pricing and whether funding for your course is available.
CSCS does not offer any courses or qualifications.
This card is valid for five years.
It is currently not possible to renew a Labourer card. However, you can apply for a new Labourer card when your existing card expires. You can find out more here.
How to apply
The quickest and most convenient way to apply for a CSCS card is via our online application service.
If you already have an account, please login and start your application today.
If you do not have an account, visit the Applying for cards page to find out how to create an account and apply for CSCS card online.