Don't pay more than £36 for a CSCS card
Published: June 1, 2023
Construction workers are being charged excessive sums by unaffiliated third-party websites for their Construction Skills Certification Scheme (CSCS) cards when they could pay just £36 via the official application service.
CSCS continues to receive complaints from those who have used third party companies to apply for their CSCS cards. These companies are unaffiliated to CSCS and simply use the official CSCS application service on their client's behalf, while charging an admin fee.
Many of these complaints relate to inflated costs and slow delivery times for cards.
Alan O'Neile, Head of Communications at CSCS, said: "While many third-party sites provide the services advertised and are entirely legal, CSCS wishes to make construction workers aware that some charge significantly more than the official application fee. This is particularly pertinent in the current climate as many in the industry grapple with increased costs."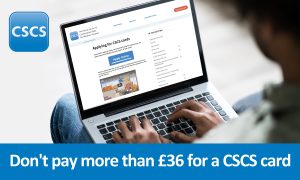 There is only one official service: cscs.uk.com/apply. A card costs £36 and in most cases, applications will be processed, and cards issued within 48 hours.
Alan O'Neile continued: "We often hear of construction workers paying upwards of £60 just for their CSCS card. If you are charged more than £36 for a card or £22.50 for the separate CITB Health, safety & environment test you should ask why.
"For some workers and employers, the services provided by third party organisations make it worth paying the extra charges but, if you are paying more than £36 for a card, please check that you understand what additional services you will receive and that you are happy to pay for them."
In addition, some third-party websites falsely imply association to CSCS by using CSCS's images and misleading language to pass themselves off as official or affiliated to CSCS. CSCS is working with its legal representatives to remove inaccurate information from these websites.
The quickest and cheapest way to apply for your CSCS card is via the official online service. Online applications are quick, easy, and secure, for more information visit: www.cscs.uk.com/apply.