Basic Skills Green card
CSCS no longer accepts or issues the Basic Skills card, having stopped accepting new applications and renewals on 3rd September 2018. All existing cards will remain valid until their expiry.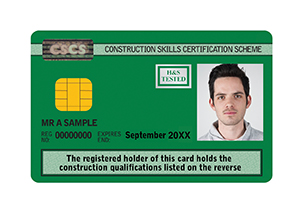 The decision to withdraw the Basic Skills card was a practical step towards achieving the Construction Leadership Council (CLC) requirement of ensuring nationally recognised qualifications are in place for all construction related occupations.
The training qualifications previously accepted for the Basic Skills card do not meet the CLC's requirements. For further information on the CLC requirements go to www.cscs.uk.com/clc
For former Basic Skills cardholders and would-be new applicants, the following options are available:
CSCS will accept one of the following health and safety tests/courses for the Apprentice card:
A CITB Health, safety and environment test pass from within the last 2 years
A completion certificate for a one-day Construction Health and Safety Awareness course
A Certificate of Unit Credit showing completion of the Construction Health and Safety unit included in your induction or initial qualification.