Prepaid Accounts
CSCS has introduced Prepaid Accounts. These accounts can be loaded with credit and then used to pay for CSCS card applications. This means that a CSCS card application can be submitted without needing a debit/credit card.
Prepaid accounts are available to employers, training providers and other third-party organisations which apply for CSCS cards on behalf of others. Prepaid accounts are not available to those making individual applications on behalf of themselves.
If you choose to use a prepaid account, then you will be bound by the CSCS Online prepaid account Terms and Conditions.
Please use Google Chrome to access the prepaid account system, as not all functions are supported by other browsers.
How to set up a Prepaid Account
To set up a Prepaid Account, you must first register onto CSCS Online as an Employer, Training Provider or Third Party at www.cscsonline.uk.com/login.
You can do this by selecting the appropriate button for your organisation and filling out the form pictured below. Please ensure that you provide all your company details when setting up your account.
Once you have registered your account and logged in, you can set up your Prepaid Account by clicking the Prepaid Account button on the right-hand side of the navigation bar.
The 'Setup Prepaid Account' box will now appear. Fill in the required details, and then scroll down and click the submit button.
Please note: CSCS requires your company's Unique Tax Payer Reference (UTR) number. If you are not sure of your company's UTR number, please contact your finance team.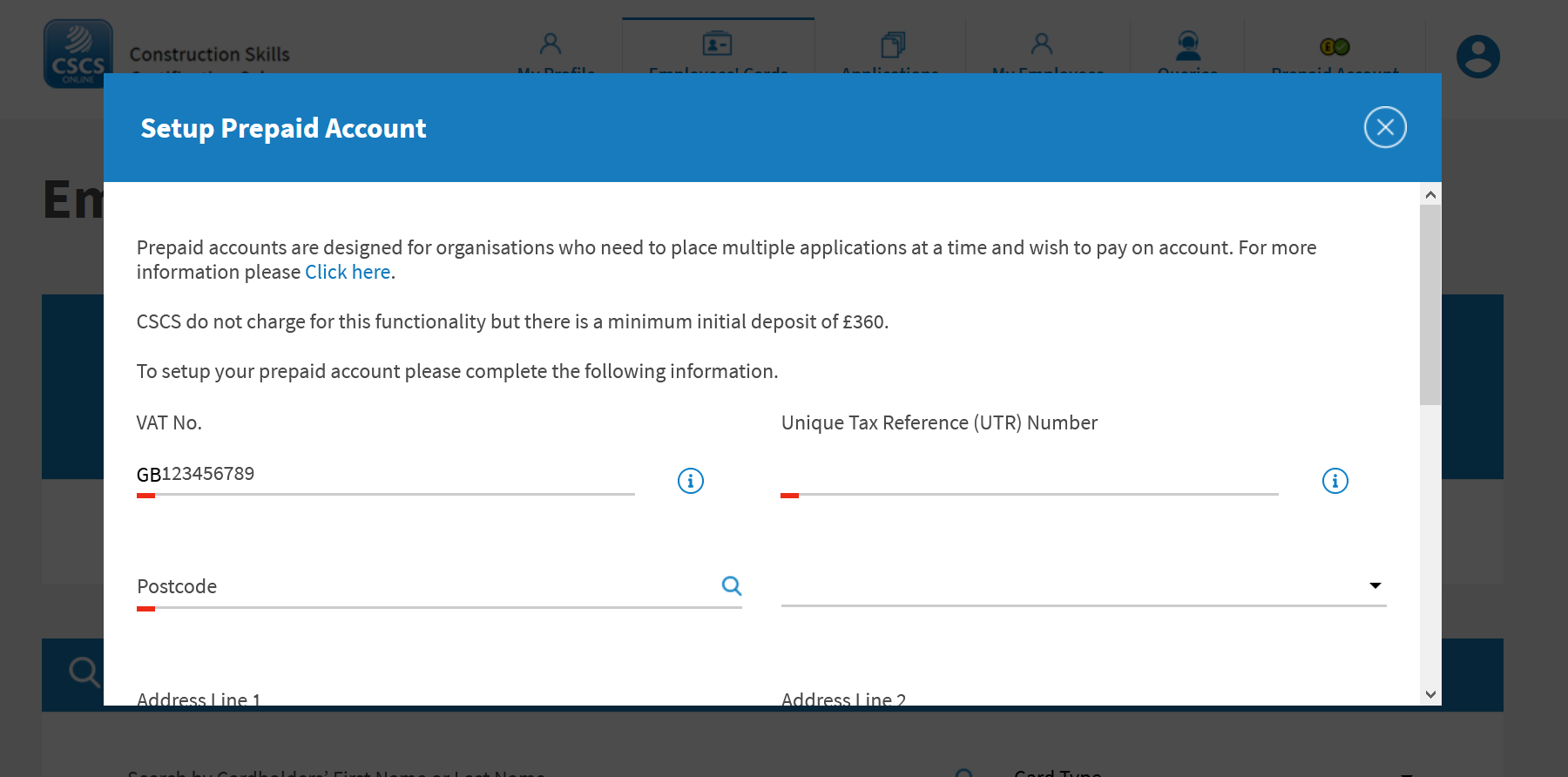 You will now be taken to the Prepaid Accounts page.
This page will show you how much credit you have on your account, how much is available for you to use and how much is currently reserved for CSCS card applications which are pending. On a newly created account, all these figures will be £0.
Once you have begun using your Prepaid Account, you will also see the transactions for your account. They include adding funds, payment for cards and any funds approved.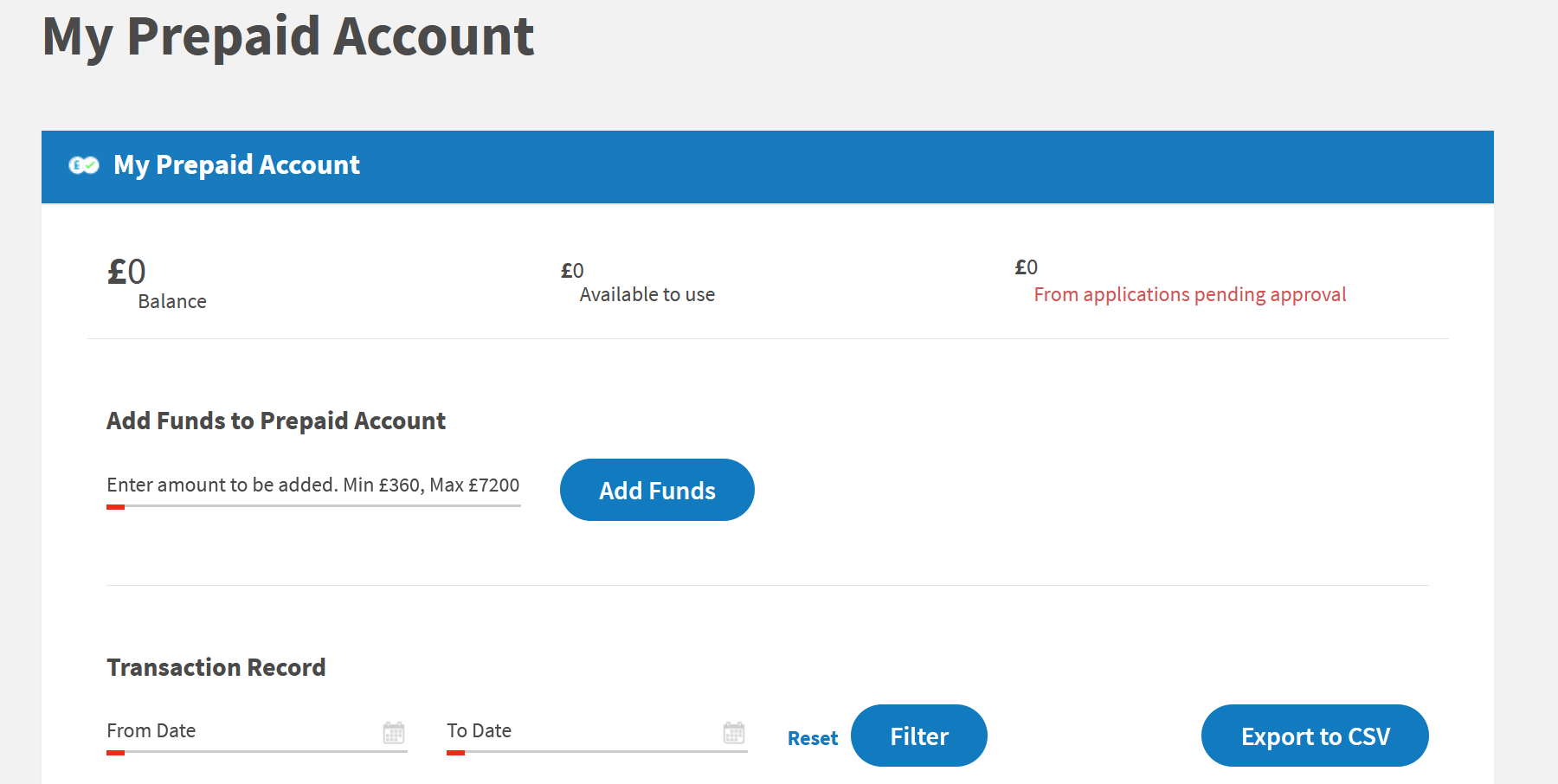 An account with insufficient credit cannot be used to pay for a CSCS card application.
To add credit, enter how much money you would like to add to your Prepaid Account and click the "Add funds" button. A box will appear where you can select how you would like to add money to your account. You can add money using a credit/debit card or you can request an invoice and add money to your account via a bank transfer.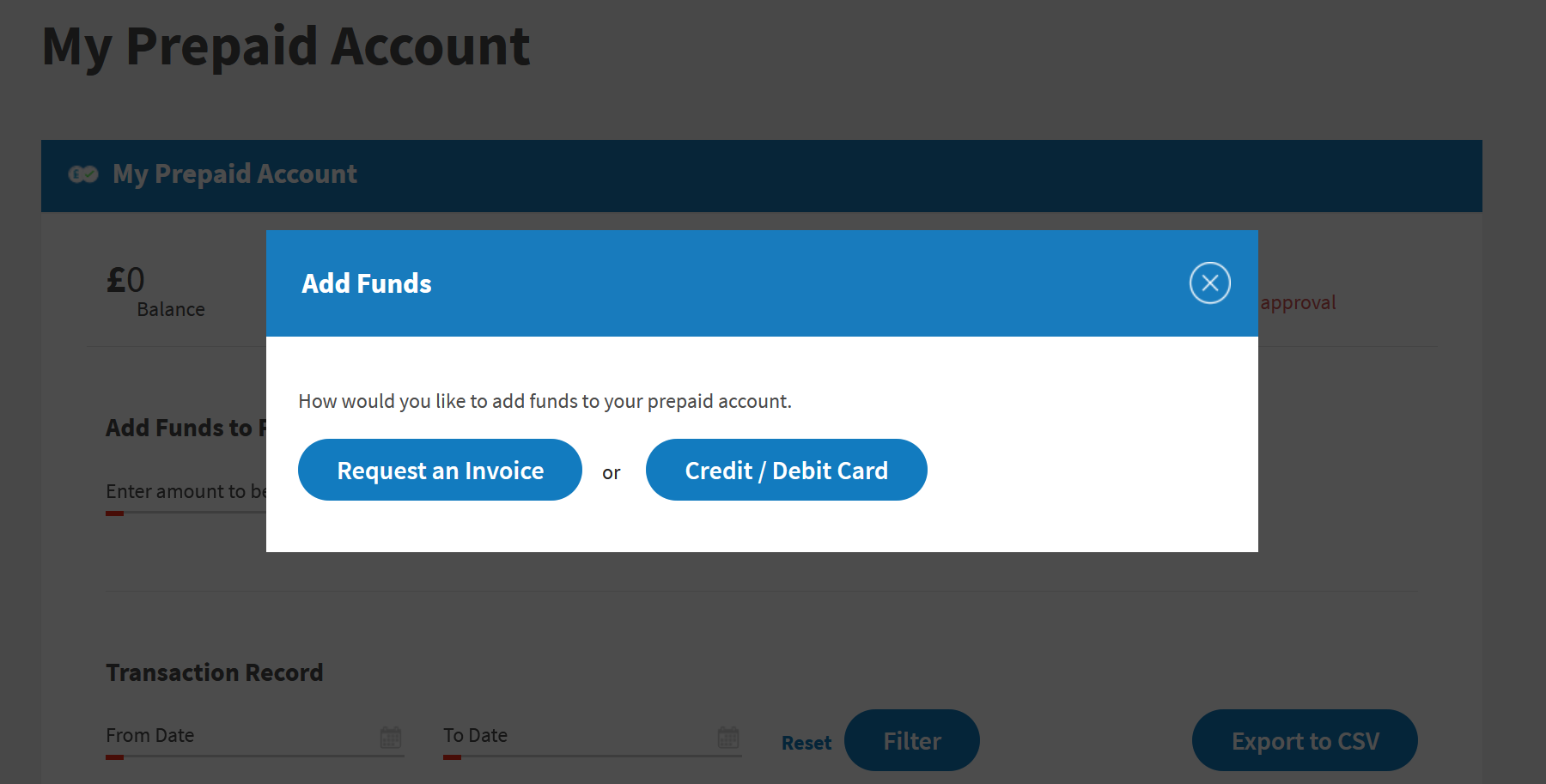 Clicking the 'Request for an invoice' button will send an invoice to the email associated with your CSCS Online account. Follow the instructions in this email to add money to your account via a bank transfer.  Once the payment has been received by our finance team your account will be credited with the requested amount and a receipt will be emailed to confirm this credit.  Please allow 5 working days for your account to be credited once you have made the bank transfer.
Clicking the 'Credit/Debit Card' button will open a new page where you can pay using a credit or debit card.
Fill in your card details and click the 'Make Payment' button. This will add the amount you requested to your account.
Once you have added credit to your account, it will be added to the balance on the Prepaid Accounts page and a receipt for payment will be emailed to you.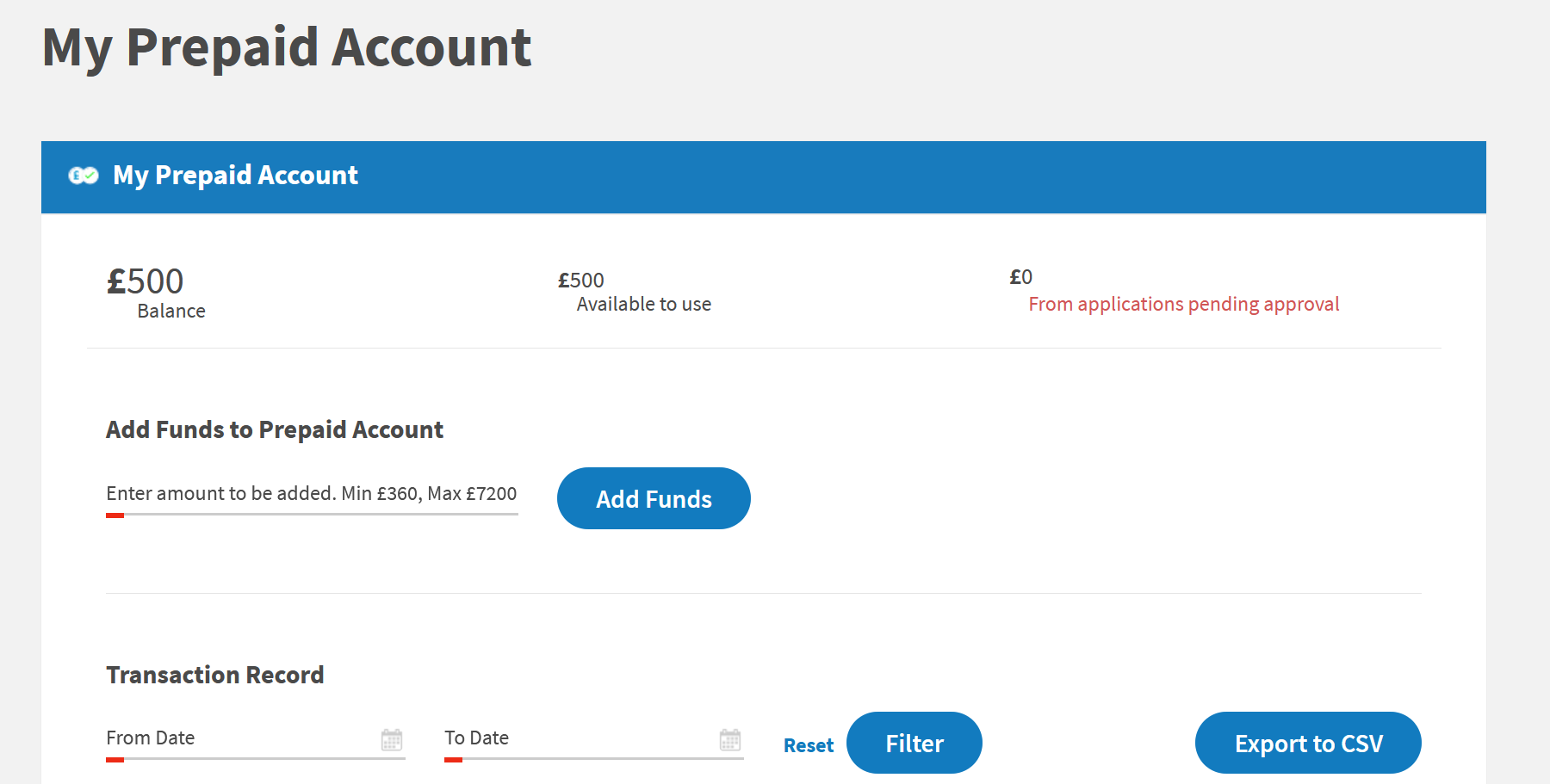 You will now be able to use your Prepaid Account to pay for CSCS cards.
How to pay for an application using a Prepaid Account
To pay for a CSCS card from a Prepaid Account complete an application as normal.
You can find instructions for filling in an application here.
Once you have submitted your application you will be taken to the payment page.
Here you will be able to select the prepaid account option, provided that there is enough credit on your account to pay for all the cards in your application.
Please note: CSCS card applications cost £36 each.
Click the make payment button to pay for your application using your Prepaid Account.
Once you have submitted your application the credit you have available will be adjusted.
You can view the new balance on your Prepaid Accounts page.