Blue Skilled Worker Card – Industry Accreditation Guidance
You have selected to replace your Blue Skilled Worker card.
Firstly, check you still need a CSCS Card. You may no longer require a card because you have moved into an office-based role and/or no longer attend site regularly.
If you still need a CSCS Card, click on the card image below for an interactive flowchart detailing the options available for replacing this card.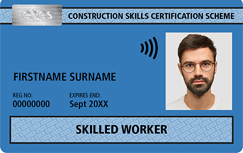 Further info
The S/NVQ qualification does not require you to attend college and can be achieved via various methods such as On-Site Assessment or Professional Discussion, and a CITB grant may be available for employers to support with the cost of the qualification.
For a full list of answers to common Industry Accreditation queries, please visit our FAQ section.