My CSCS & virtual cards
My CSCS is the official app of the Construction Skills Certification Scheme.
The app makes it easy to access and use your virtual CSCS card on UK construction sites.
The app is available 24 hours a day, 7 days a week, giving you instant access to the information you need when you need it.
The my CSCS app allows you to:

Store electronic versions of your CSCS cards
Use your virtual CSCS card to access site
View the status of your card applications
Manage your personal details
Find out which CSCS card you can apply for
Communicate with our customer service team.
The app is available on Apple and Android devices. You can download the app from the Google Play or Apple App stores.
For more information about using the my CSCS app please see our user guides.
What is a virtual card?
A virtual CSCS card is just the same as your physical CSCS card but is stored on your phone rather than in your pocket.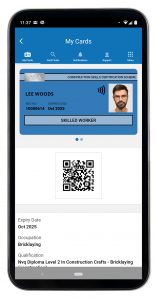 Your virtual CSCS card will appear in the my CSCS app as soon as your application is approved, and payment taken.
The virtual card shows employers your photograph, qualifications, training, occupation and the expiry date of your card.
Site managers can digitally verify the information stored on the virtual card using a smartphone or tablet with the CSCS Smart Check app installed.
CSCS Smart Check allows site managers to instantly verify the cardholder's training and qualifications and be secure in the knowledge that the cardholder is qualified for the job they do on site.
Visit our FAQ page for more information on the my CSCS app and virtual cards.